Information for foreign people
Welcome to our information page for foreign people.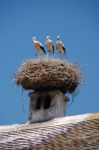 We would like to give you some information about our pretty guesthouse. First of all, foreign people are allways welcome. We speak German, English and Spanish and are very child friendly.
If you have any questions, please do not hesitate to give us a call. You can contact us within the "Kontakt"-button on the right side in the menu or by phone with the international dial-number for Germany:
Tel.: 00 49 – 57 65 – 73 16
Fax: 00 49 – 57 65 – 94 23 38
Kind regards!
A. Breustedt